Dear Alumnae,

I recently shared with you that we are collaborating with peer schools Laurel and University School regarding our Alumnae Weekend activities in light of the COVID-19 pandemic. We have made the difficult decision to postpone the May 15-16 celebration. The health and well-being of our HB community is at the heart of every decision we make, so while we know that this is disappointing, especially for our reunion classes, it is certainly in the best interest of all of us as well as in adherence with guidelines set forth by the Centers for Disease Control and the Ohio Department of Health.
That being said, postponement does not equal cancellation! We will reschedule our celebration for a future date, the details of which will be communicated as they are developed. We will look forward to the opportunity to welcome our alumnae back home when we can highlight all of the excitement on campus.
Thank you to Rachel Zake '01, our Alumnae Weekend Chair, and to all of the Reunion Volunteers for their planning and dedication. We look forward to continuing to work with them on the rescheduled gatherings. The reunion invitation mailing was already in process, so just hold on to it as a reminder of what is to come!
Thank you for your understanding and support during these challenging times. We encourage you to visit our COVID-19 Communication and Resources page on the HB website for more information and to learn how HB is working through this unprecedented situation.

Fondly,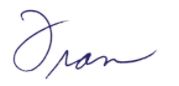 Dr. Fran Bisselle
Head of School
This page has not been published yet.